Skip to Content
Commercial Pest Control Services in Montgomery County, MD
Protecting Your Business from Pests & Insects
Part of running a successful business includes ensuring that your building is free from unwanted pests, so that employees, customers, and visitors never have to encounter these problems. From termites causing extensive structural damage to rodents spreading disease, critters pose a variety of risks to both your property and the people that it contains. At Montgomery Pest Control, we have over 25 years of experience that we can put to work for you.
How Our Commercial Pest Control Process Works
Owning a business means some risks are worth taking. On the other hand, pests put you at risk and jeopardize the success of your business. Property damage, illness, and injuries are all threats to your commercial operation, and that's not even taking your reputation into account. When you partner with Montgomery Pest Control, you can focus on what you do best while we take care of pests and the risks associated with them in your Montgomery County, MD business. Our commercial pest control process includes a three-pronged approach:
Inspection – We start with an in-depth inspection of your commercial property. We'll check the interior and exterior of your building, as well as your parking area and any other applicable locations. Our experienced team will identify current pest pressures, as well as problem areas, entry points, and potential future issues.
Treatment – After the inspection, we'll tailor a customized pest treatment plan for your business or commercial property. Our services include treating interior areas, exteriors of buildings, parking areas, mulch beds, and more. We'll be sure you know what treatments we'll be performing ahead of time.
Follow-Up – After the treatment, we're not done. We won't leave you hanging because we know that follow-up is essential. Many commercial properties require a monthly pest control plan. This keeps your business pest-free all year long. We offer flexible scheduling based on your needs and availability.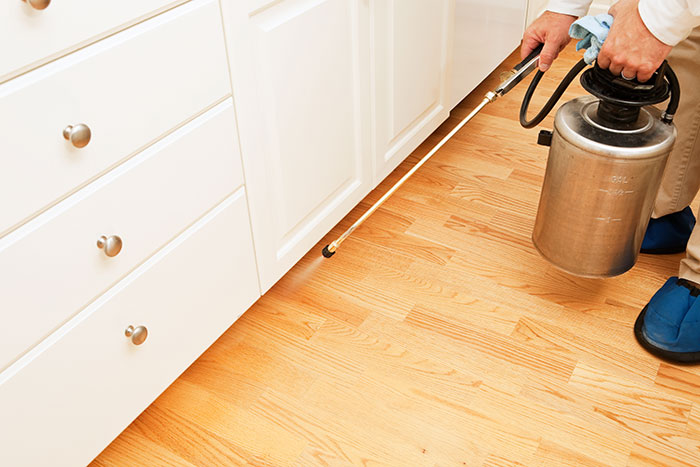 The Industries We Serve
We can effectively take care of pest control at a wide variety of office buildings throughout the surrounding areas. Let our Montgomery County pest control company find the right solution for your business.
Our commercial pest control services span many industries and types of buildings and properties. We know you have enough to worry about, so let us handle insects and stop them in their tracks. Your reputation is at stake because customers and clients don't like doing business in buildings with pests. No matter how large or small your property is, we're here to help with all your pest control needs. Check out just some of the many industries we proudly serve:
Food Service
Hospitality
Food & Beverage Processing Facilities
Warehouses
Healthcare
Commercial & Public Transportation
Childcare
Apartments
HOA Communities
Bars & Nightclubs
Retail Centers
Office Buildings
Cruise & Cargo ships
Schools & Universities
The Pests We Treat
When it comes to your business, no pest, insect, or critter is acceptable. Montgomery Pest Control is here to treat the following types of pests in your commercial facility:
Carpenter Ants
Carpenter Bees
Hornets
Cicada Killers
Camelback Crickets
Flying Ants
Centipedes
Indian Meal Moths
Ticks
Stinkbugs
Count on Us to Get You Back to Business as Usual
When your business is at stake, you need to make the right choice for pest control. You can feel confident with Montgomery Pest Control. Our team offers effective commercial pest control solutions that are customized to your unique situation. We have more than 25 years of experience eliminating pests from Montgomery County businesses and commercial facilities like yours. We know what it's like to run a business, so we won't make you sign a contract or charge you for driving or trip fees. All our team members are fully-licensed and insured. When you trust our team, we'll provide you with a free phone estimate. Contact us today to get started so you can get back to business as usual.